Dorint City Hotel in Bremen city center
Welcome to the heart of the Hanseatic city of Bremen!
The Dorint City-Hotel Bremen impresses with its central location between the UNESCO World Heritage Site Town Hall and Roland, the medieval Old Town Schnoor and the Bremen Trade Fair. From our hotel in Bremen's city center, you can easily reach all the highlights of the Hanseatic city on foot in just a few minutes.
For business stays, or for private occasions, we offer you, among other things, Bremen's largest ballroom with direct daylight.
230 rooms and suites
Hillmann's Bar & Bistro
Sauna and steam bath
Bicycle Lounge
Hillmannplatz 20, 28195 Bremen
Telephone: +49 421 62000 0
Email: info.bremen-city(at)dorint.com
City center
0,5 km
Station
0,4 km
Airport
4,6 km
In the middle of Bremen
Hillmann's Bar & Bistro
Events up to 1,000 people
A warm welcome
Dear Guests,

whether culture-oriented city trip, business trip or conference: Our Dorint City-Hotel Bremen offers you the highest comfort for your stay. In the spacious guest rooms, plenty of room awaits you to relax after a visit to the Kunsthalle or a detour to Bremen's Easter meadow. Our team looks forward to welcoming you to Hillmann's Bar & Bistro as well as for events of all kinds in our 2,000m² event area.

Enjoy your stay at the Dorint City-Hotel in downtown Bremen! We are very happy to welcome you in the Hanseatic City of Bremen!

Yours,
Peter Pusnik
Discover our rooms
Whether it's a short vacation or a longer trip - you will feel completely at home in our comfortable rooms and suites.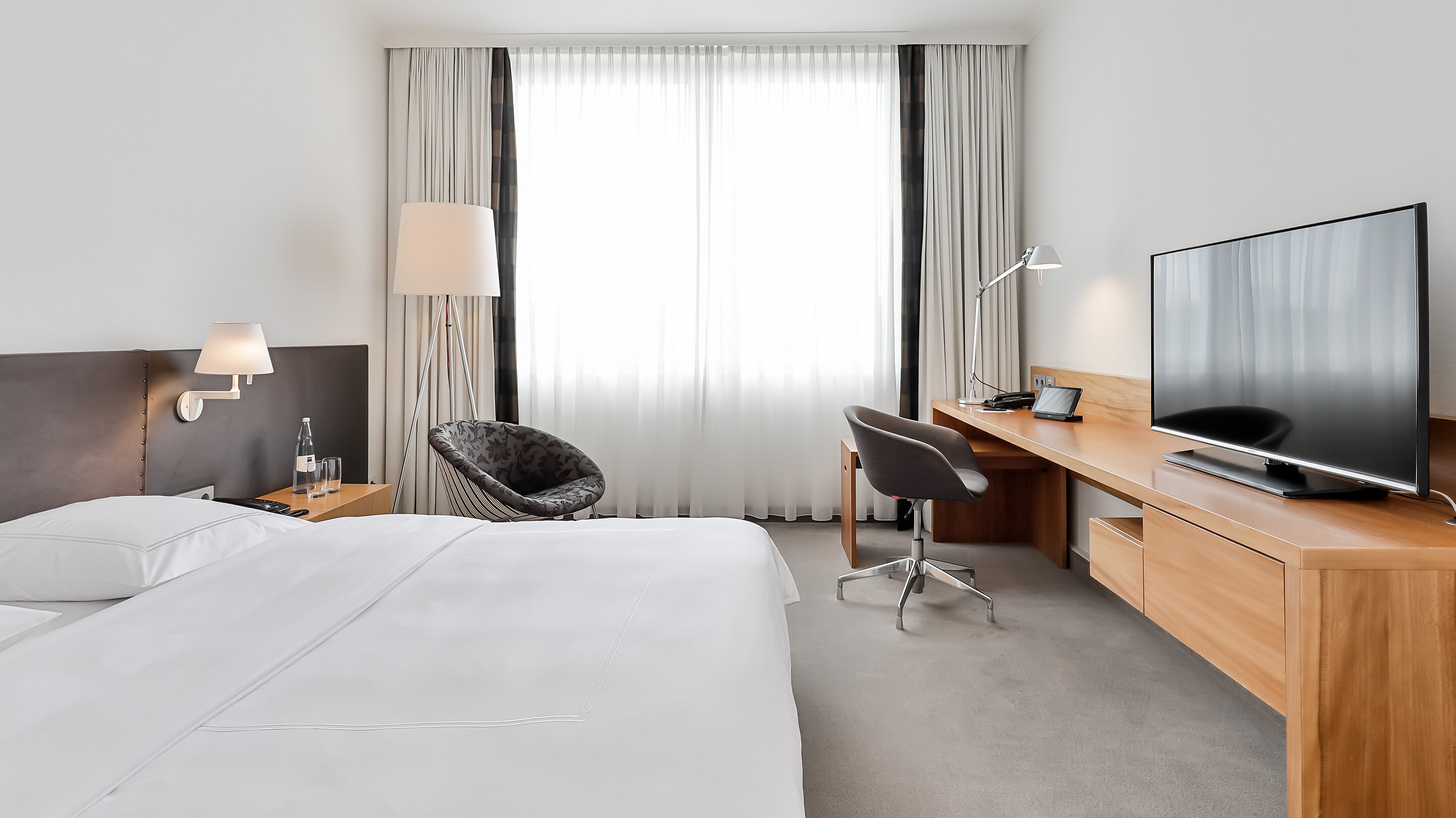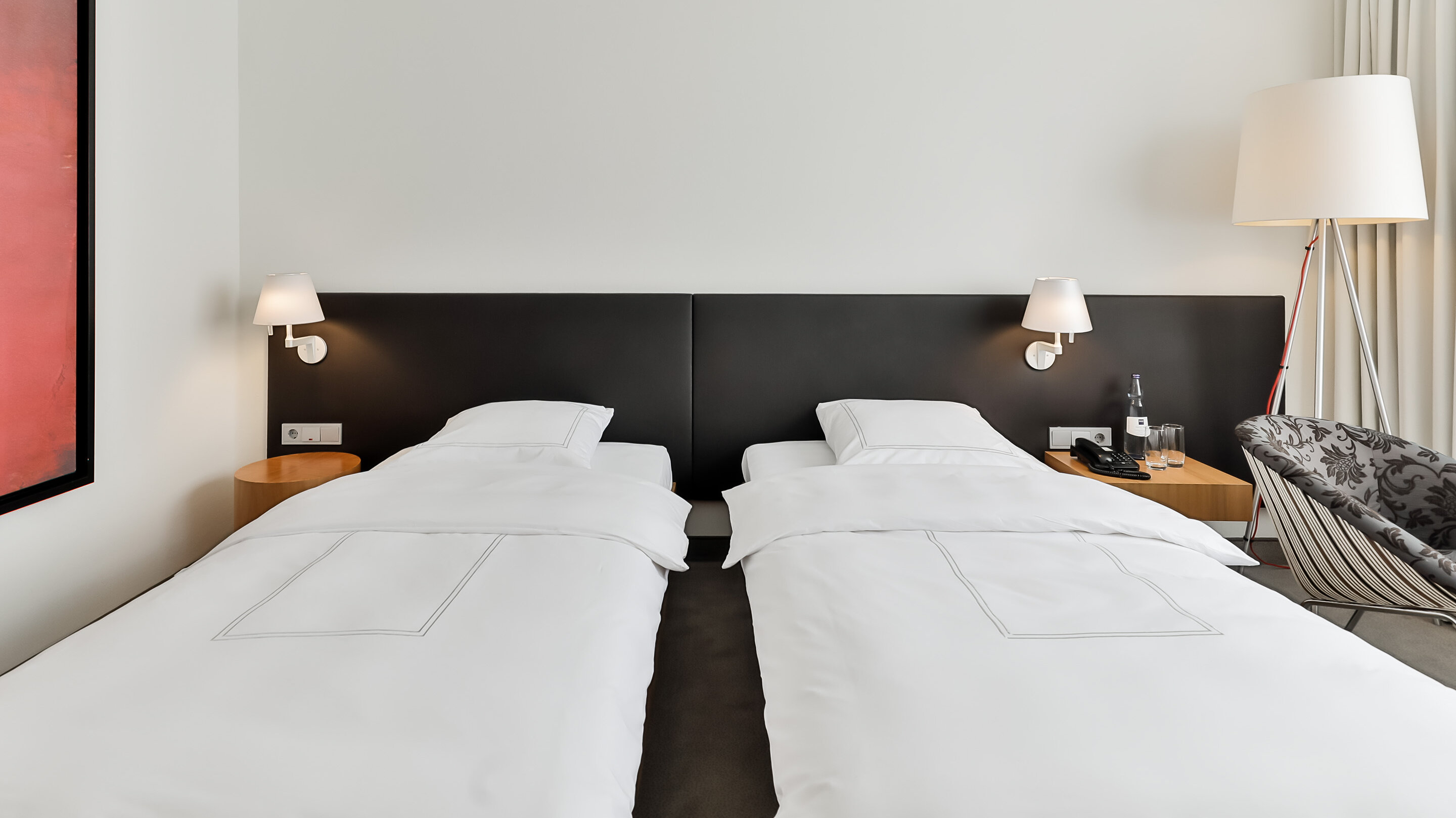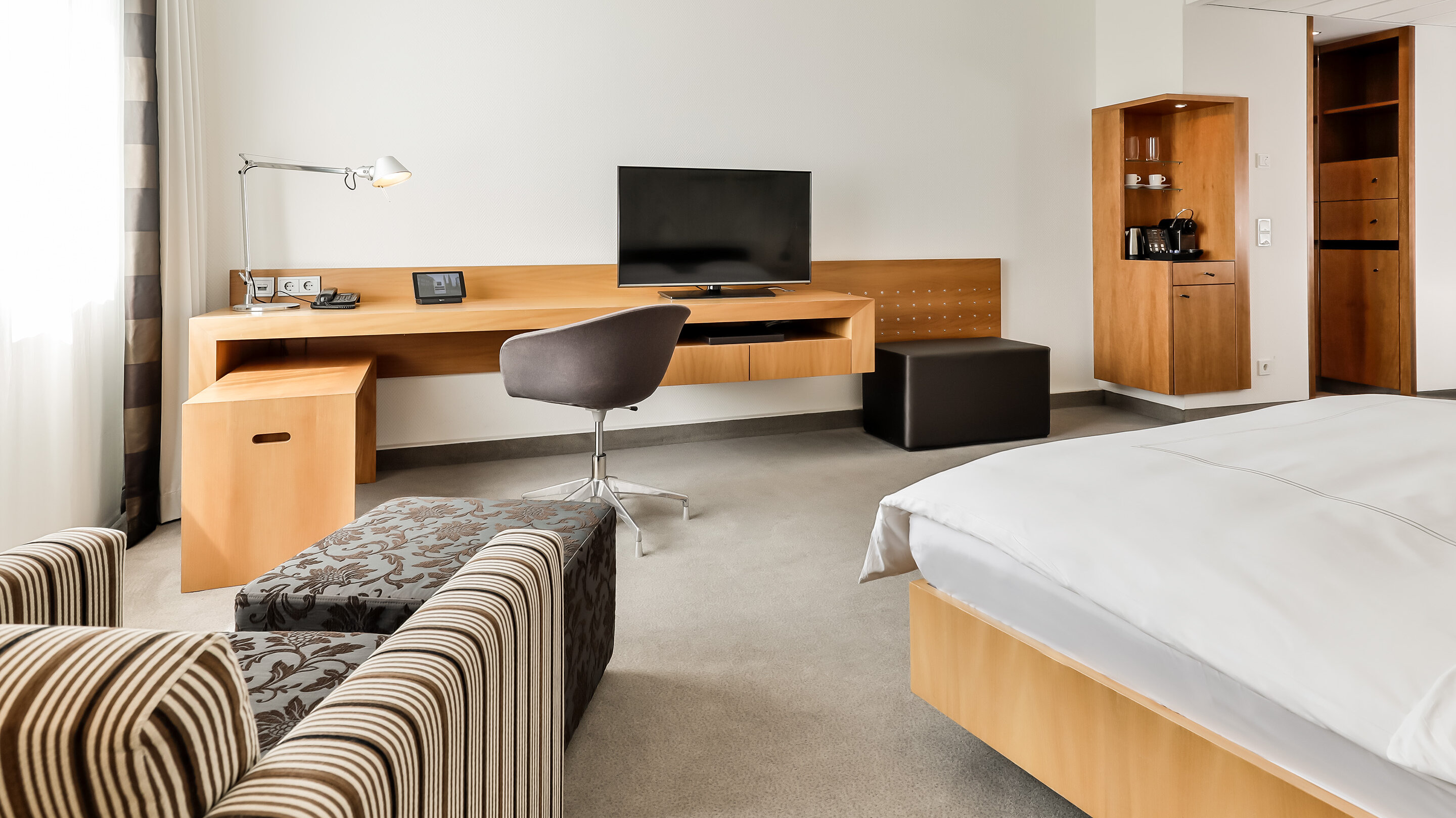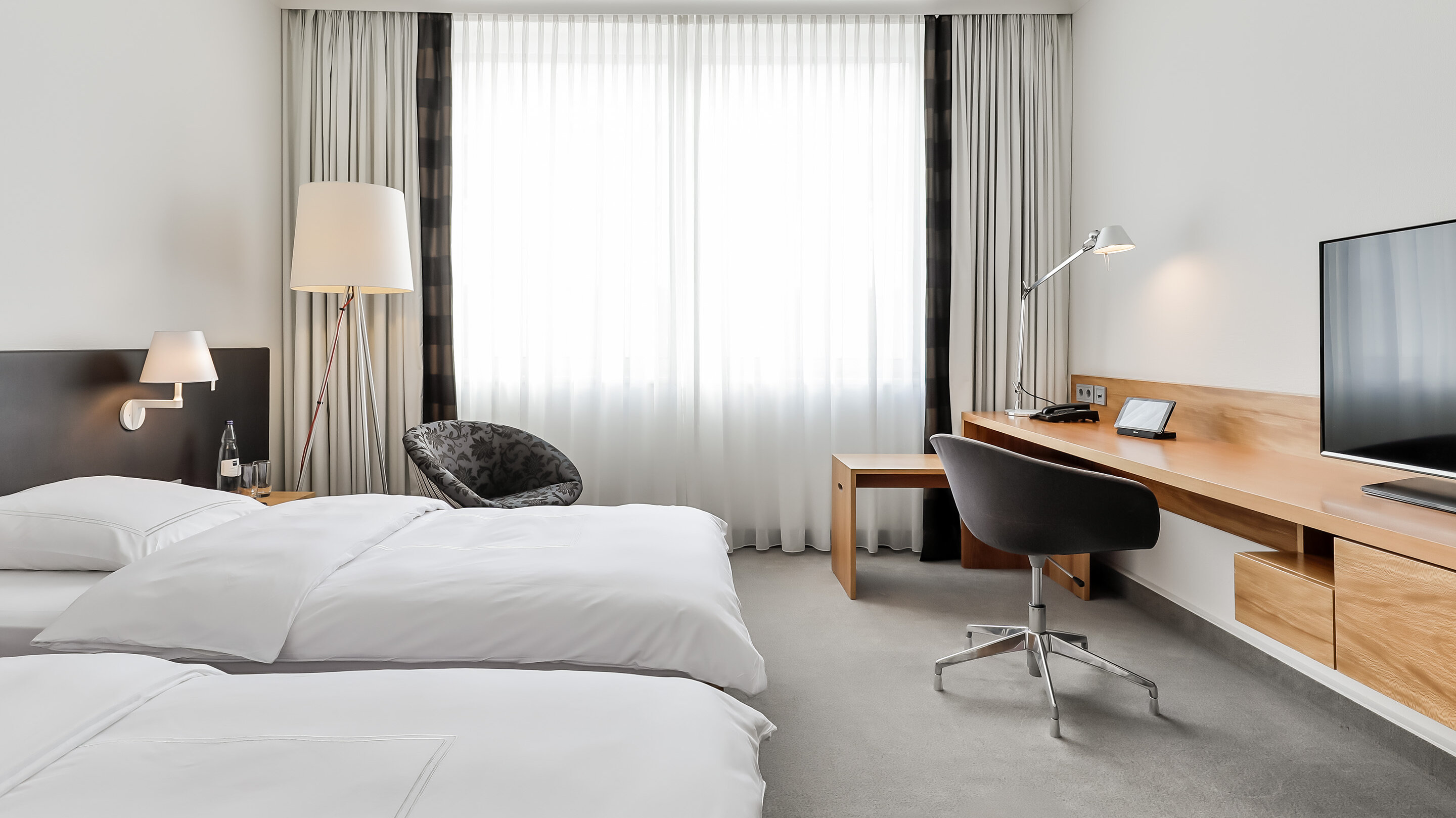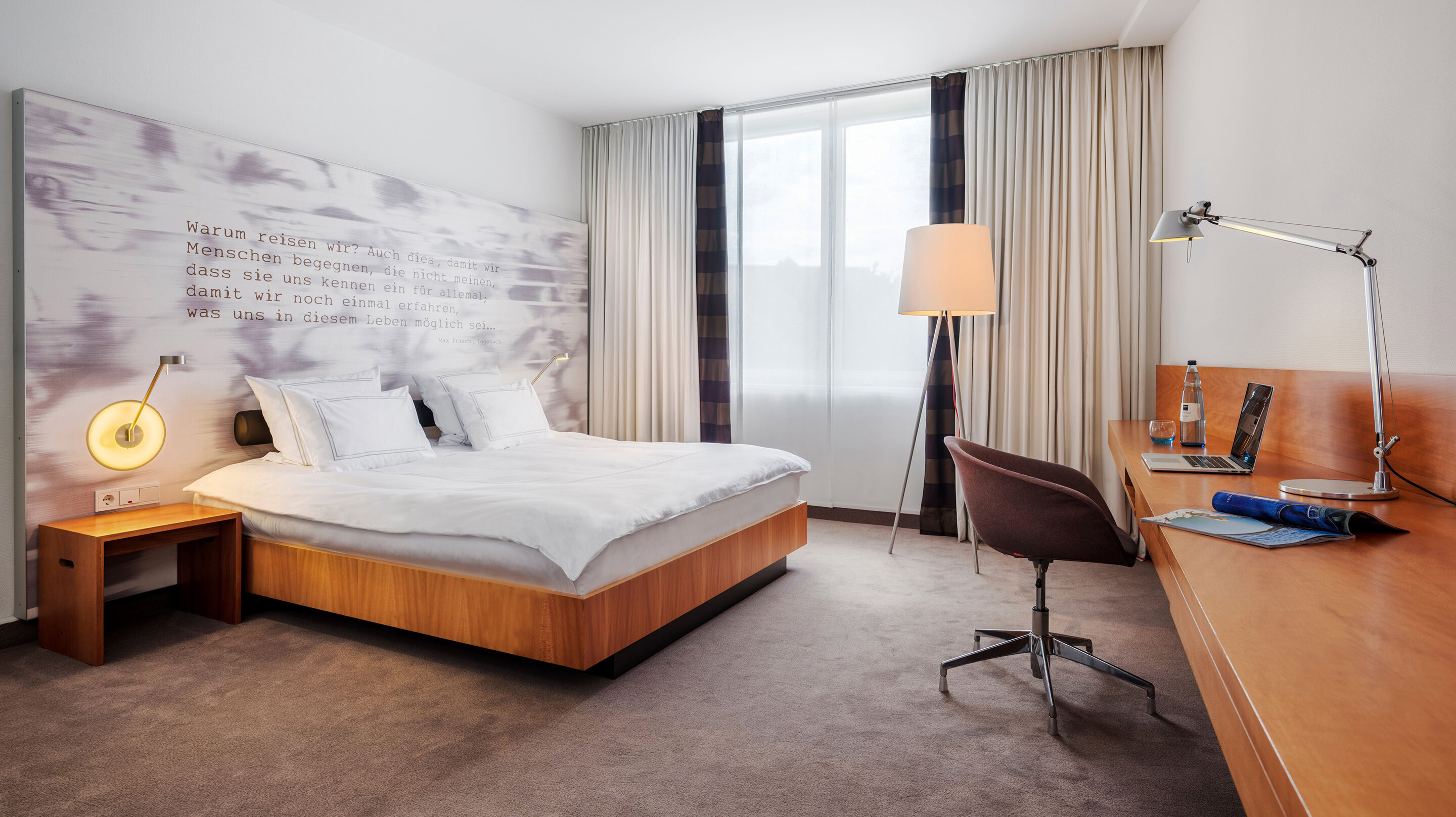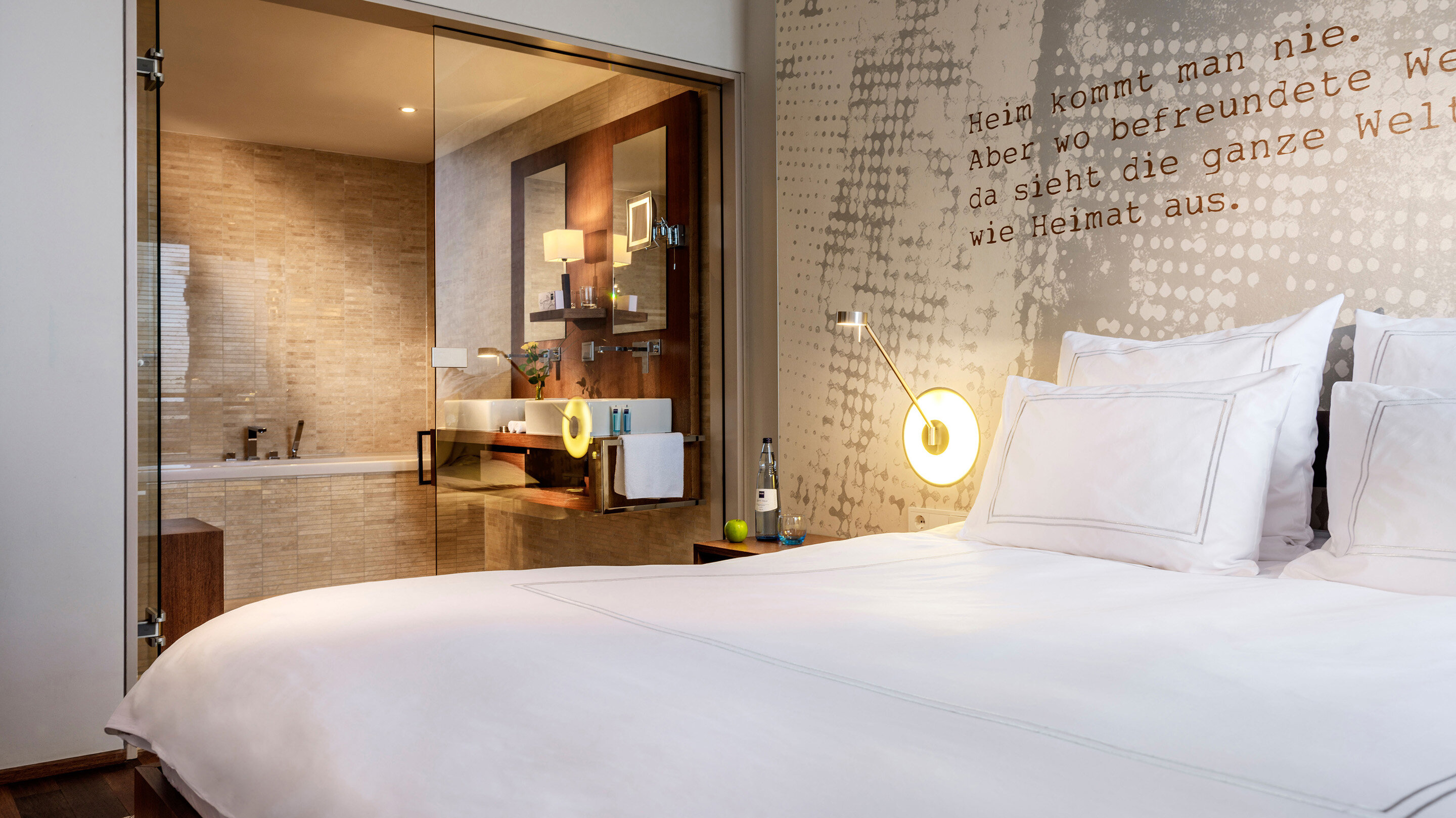 Culinary delights at the Dorint City-Hotel Bremen
Our Restaurants & Bars at the Dorint City-Hotel Bremen

The extensive breakfast buffet at Hillmann's Bar & Bistro ensures a perfect start to the day. A wide selection of delicious drinks and tasty regional and international dishes await you at the bar.
Also for private as well as business evening events our team of Hillmann's is at your disposal.
Conferences & Celebrations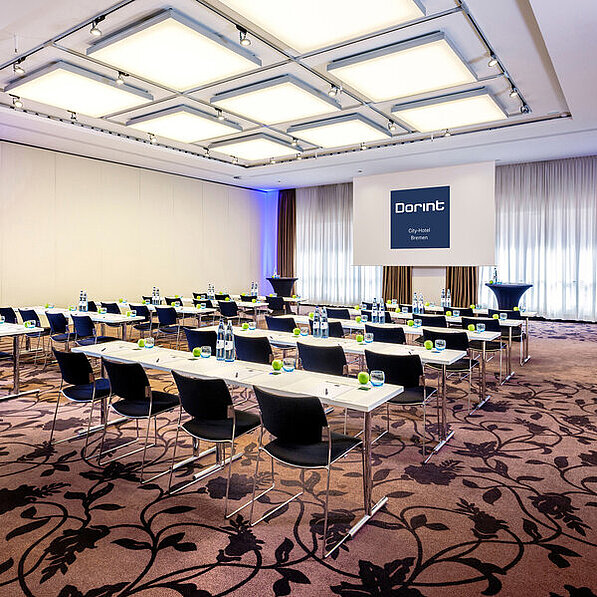 Events and incentives with space
Dorint City-Hotel Bremen has the second-largest function rooms in the city. It has 8 partially combinable rooms ranging from 35 to 605 m². The modern area with 6 air-conditioned rooms, the ballroom Zurich with separate foyer with 334 m² area extends almost over the entire second floor. 2 further rooms can be found on the first floor.
For more information, please see our Factsheet and our conference page.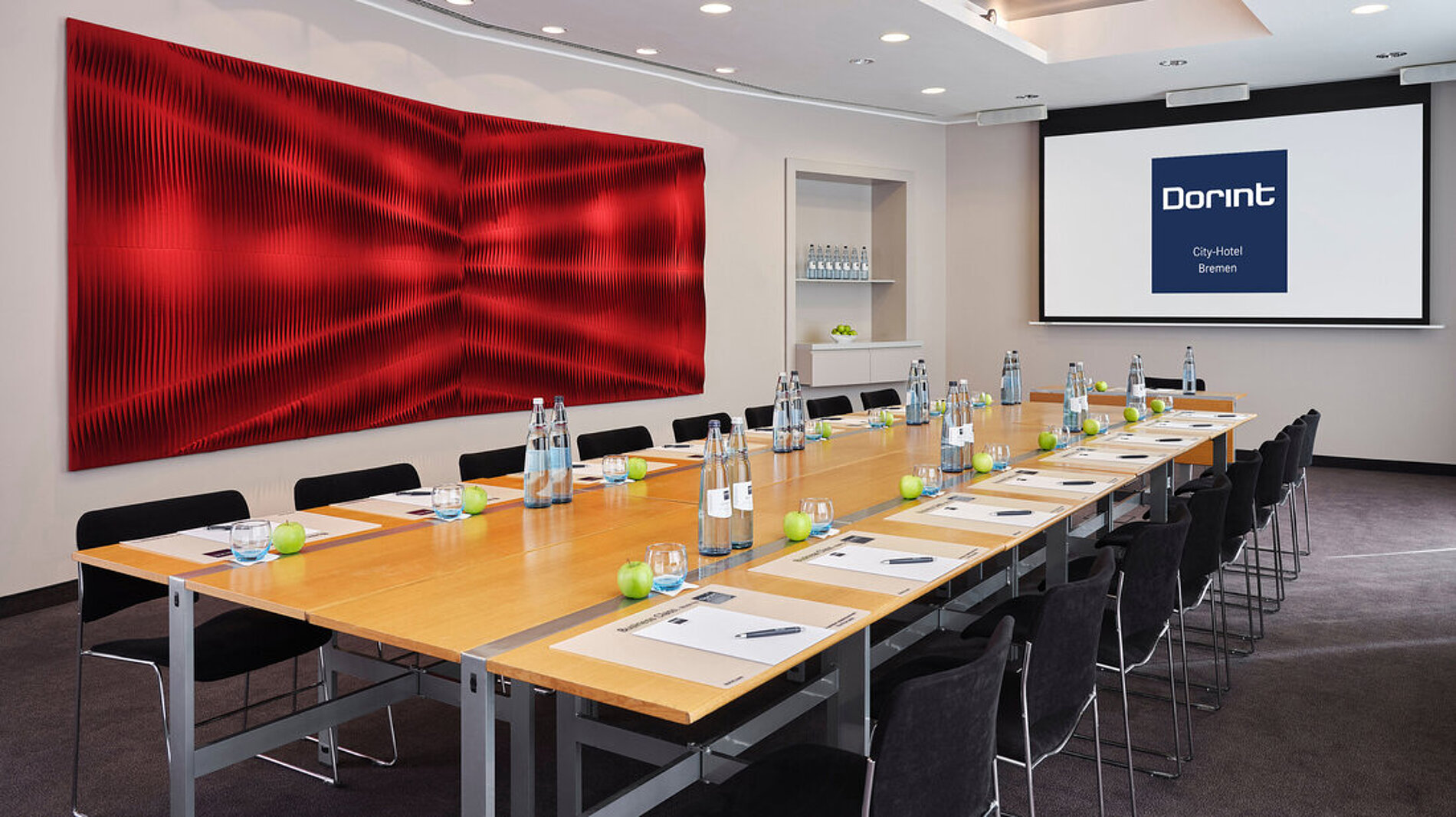 With a floor area of 74 m²and access to direct daylight, Bern offers the perfect conditions for conferences with room for up to 40 participants. We also understand how important a break from work can be, which is why you can enjoy your time-out in a separate foyer.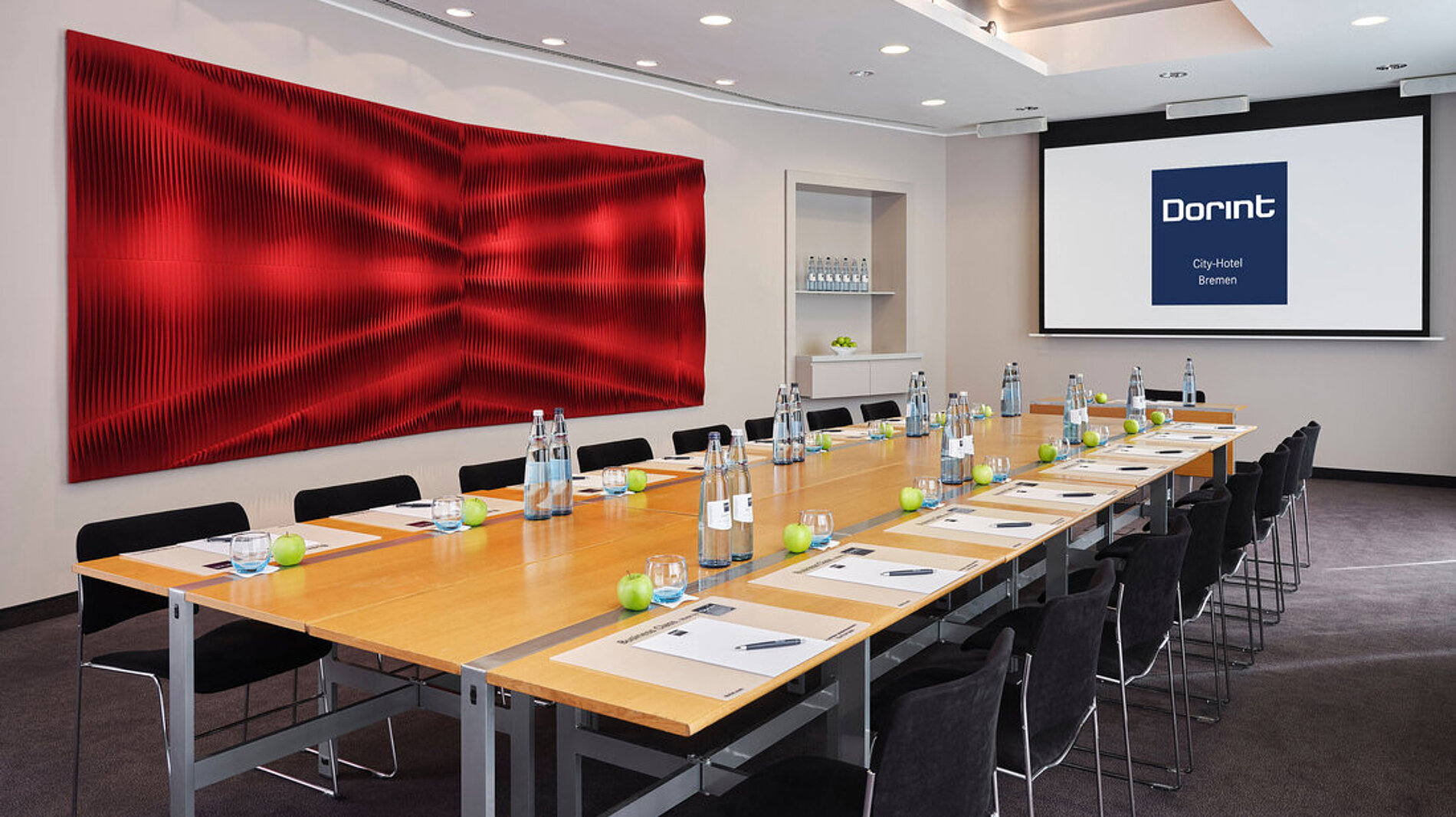 Enjoy hosting your conference with access to direct sunlight and relaxing in your separate break foyer. Offering 66 m² for groups of up to 40 participants, make your event a little brighter with Basel.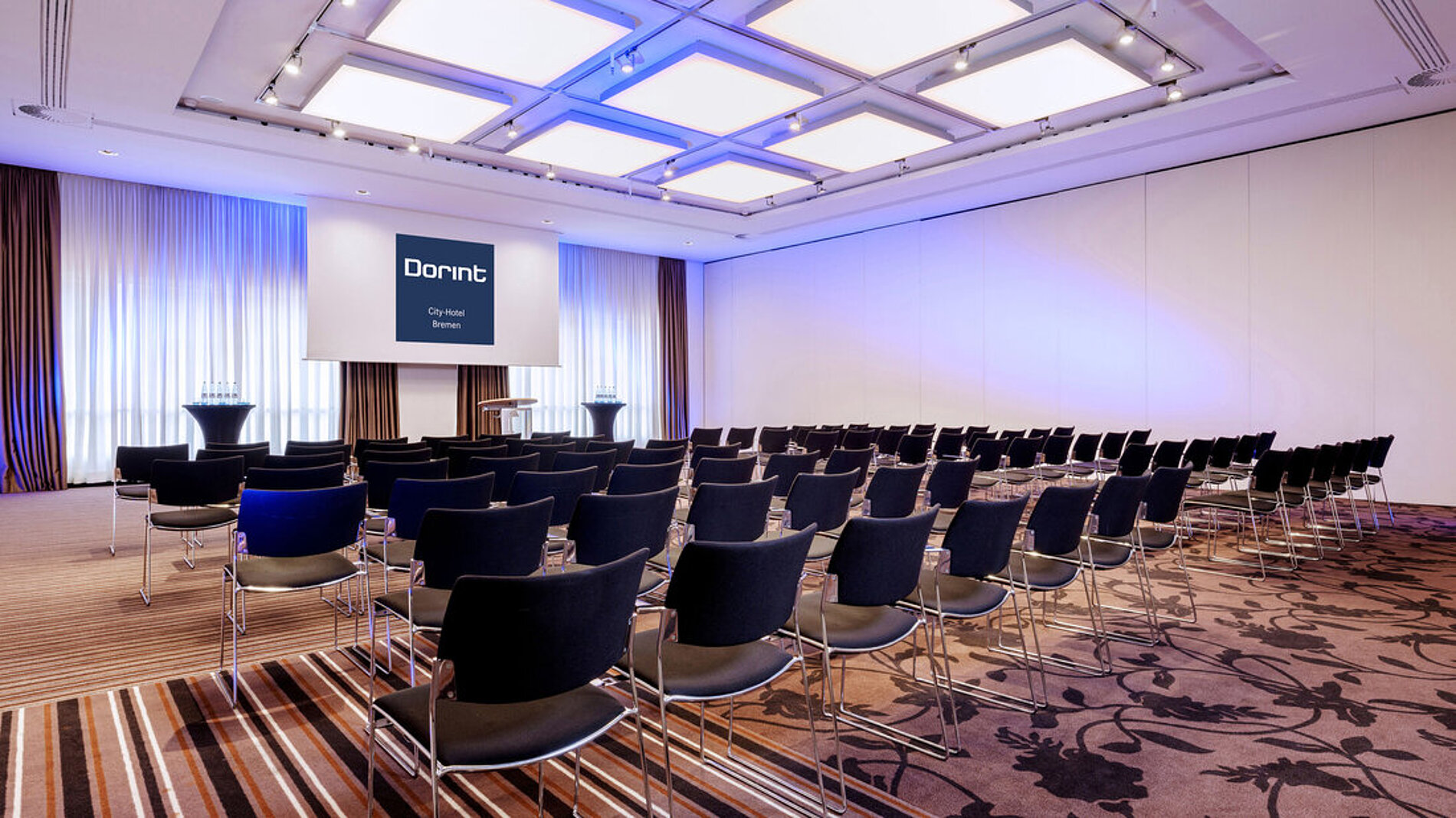 With the capability of extending to cover 605 m², Zurich 1 itself offers 186 m² space for a group of 130 participants.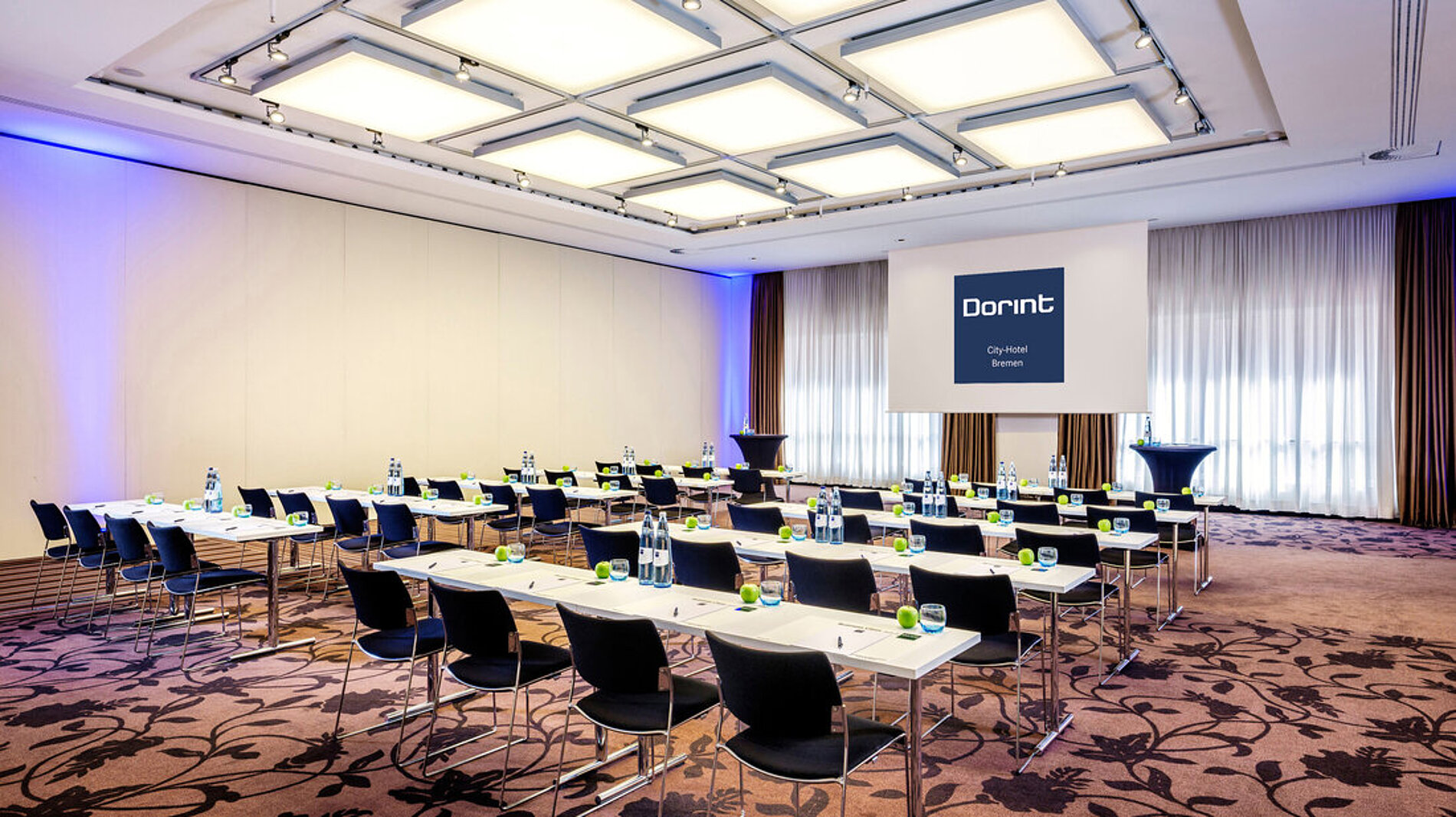 Covering 186 m², Zurich 2 offers the perfect conditions for events with up to 130 participants. In search of a larger event space? With Zurich 2 being able to expand to 605 m², there is no need to look further.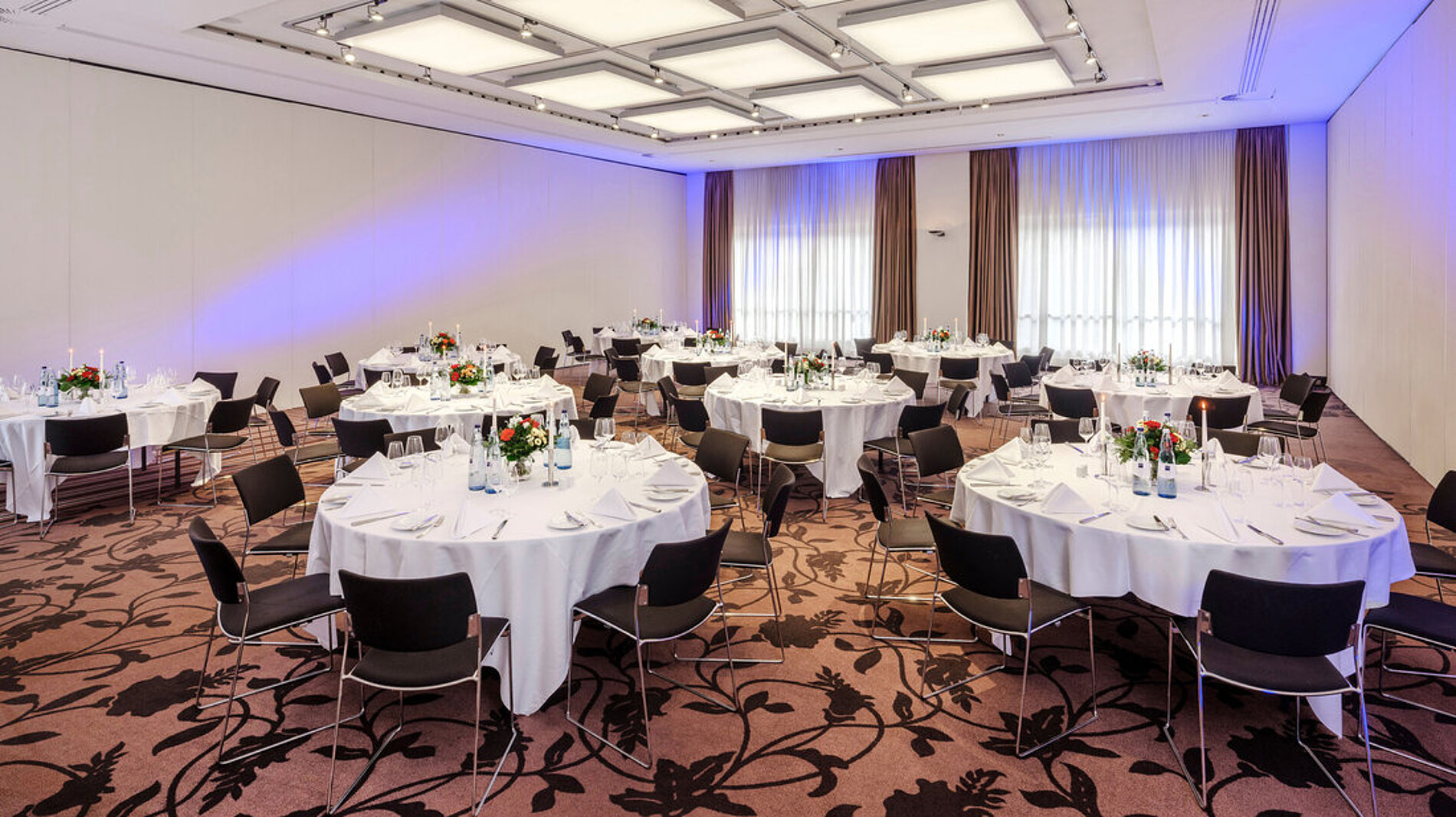 With its 232 m², Zurich 3 is our largest single conference room, with ample space for 200 participants. If you decide to combine Zurich 1,2, and 3, your participants will enjoy a 605 m² ballroom.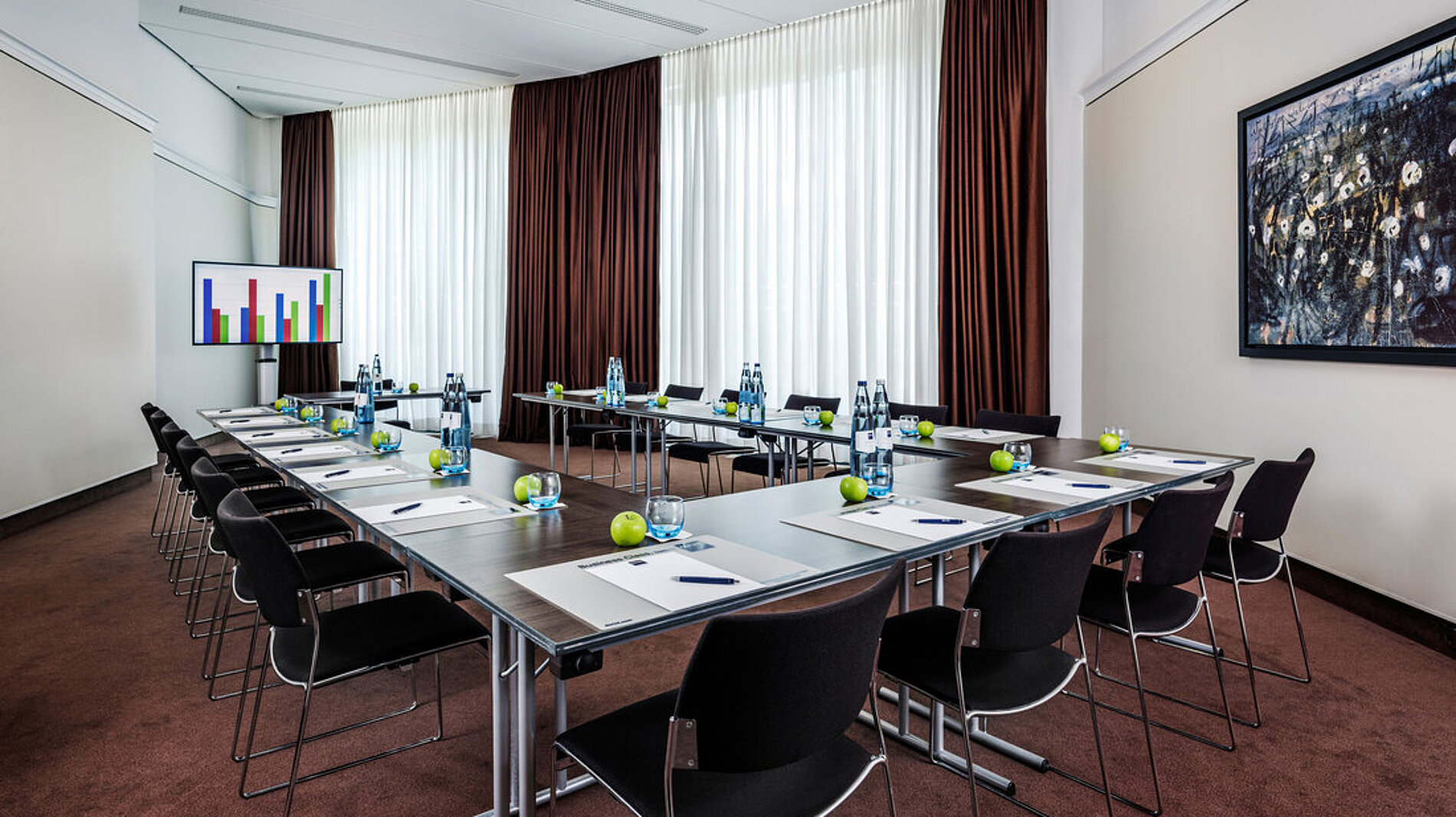 Davos covers an area of 56 m² with access to direct sunlight, making it an ideal choice to host conferences with enough room for up to 40 participants.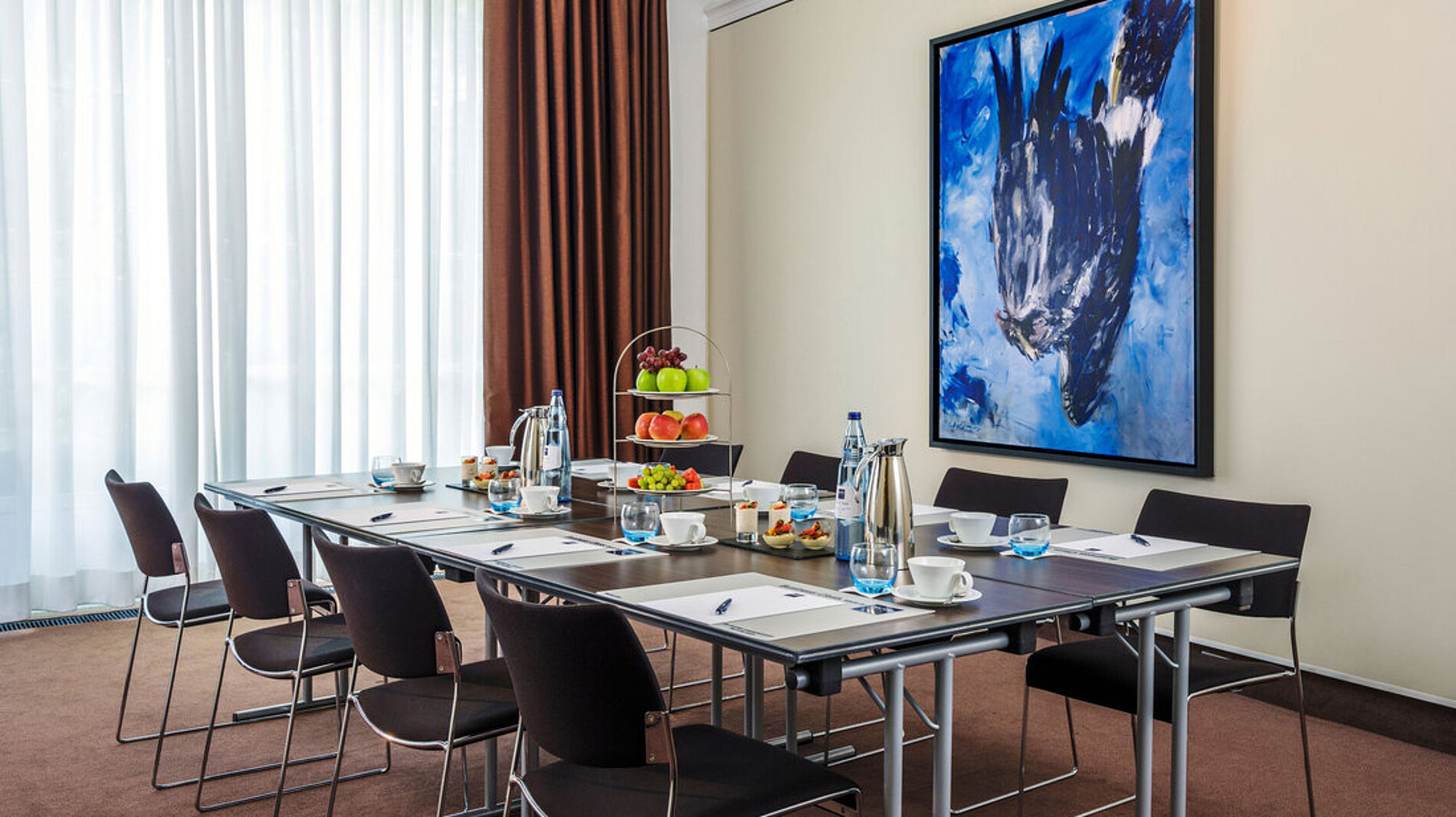 Offering sunlight, a separate foyer to enjoy coffee breaks, and enough space for 24 participants, Lausanne and its 42 m² are ideal for smaller conferences.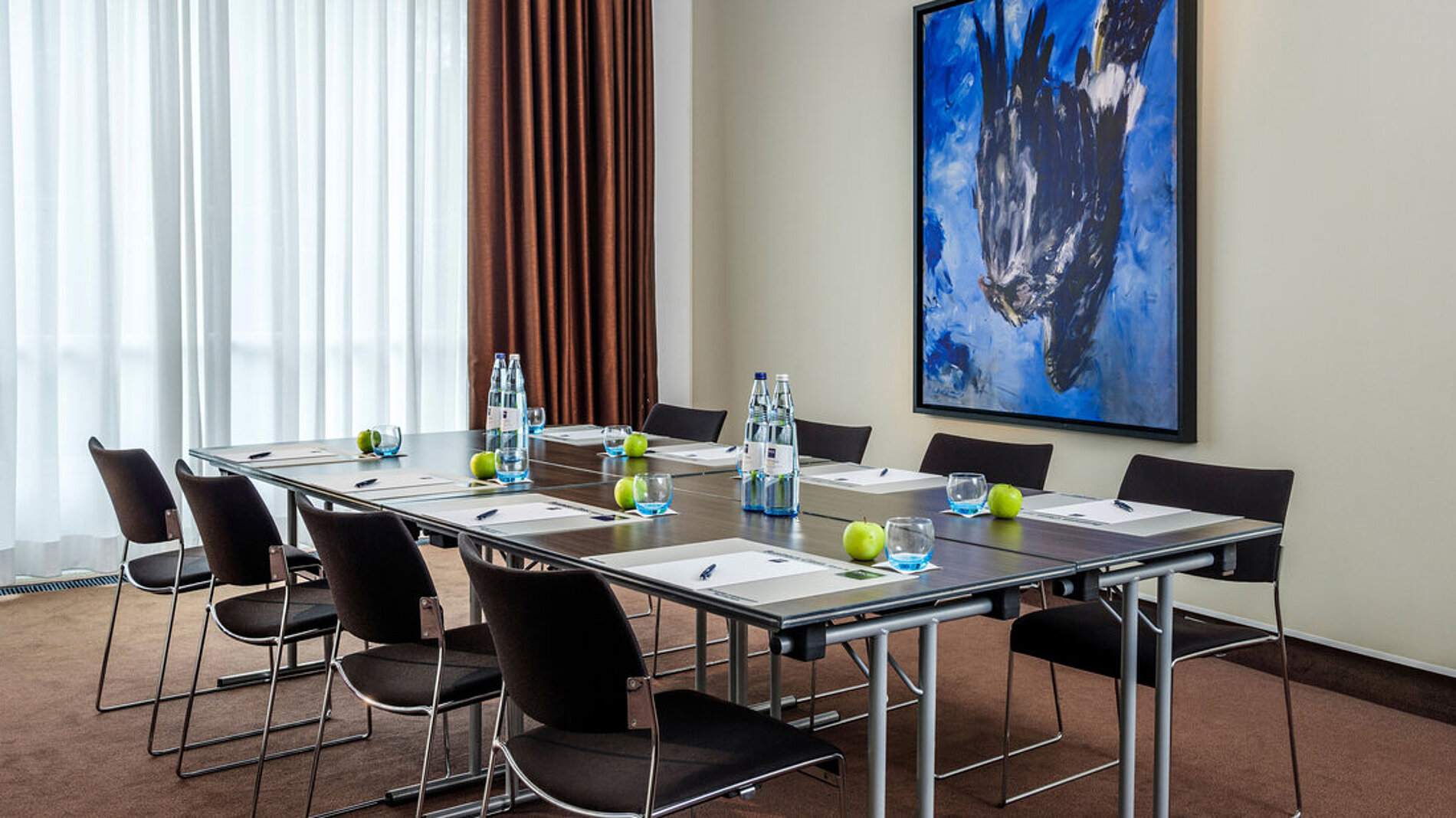 A preferred venue for smaller conferences with up to 24 participants, the 35 m² Geneva offers sunlight and a separate foyer for breaks.
Spa & Wellness
Wellness with Dorint

Relax after an exhausting and exciting day in our Vital Spa with sauna, steam bath, snow pool and rest area. If you still want to work out a bit, our modern fitness area is also available.

Sauna operating hours:
During the summer months of July and August, our sauna is open Mon.-Sun. from 6:00 pm to 10:00 pm.

All other months:
Mon. - Fri.: 4:00 p.m. to 10:00 p.m.
Sat. & Sun.: 10:00 a.m. to 10:00 p.m.

Steam bath operating hours:
Sun. - Thurs.: closed
Fri.: 16:00 h till 22:00 h
Sat: 10:00 a.m. to 10:00 p.m.
Find relaxation in our finnish sauna or our steam bath. Cool down from time to time in our ice basin.
After the sauna or following a workout you can revive in our quiet area.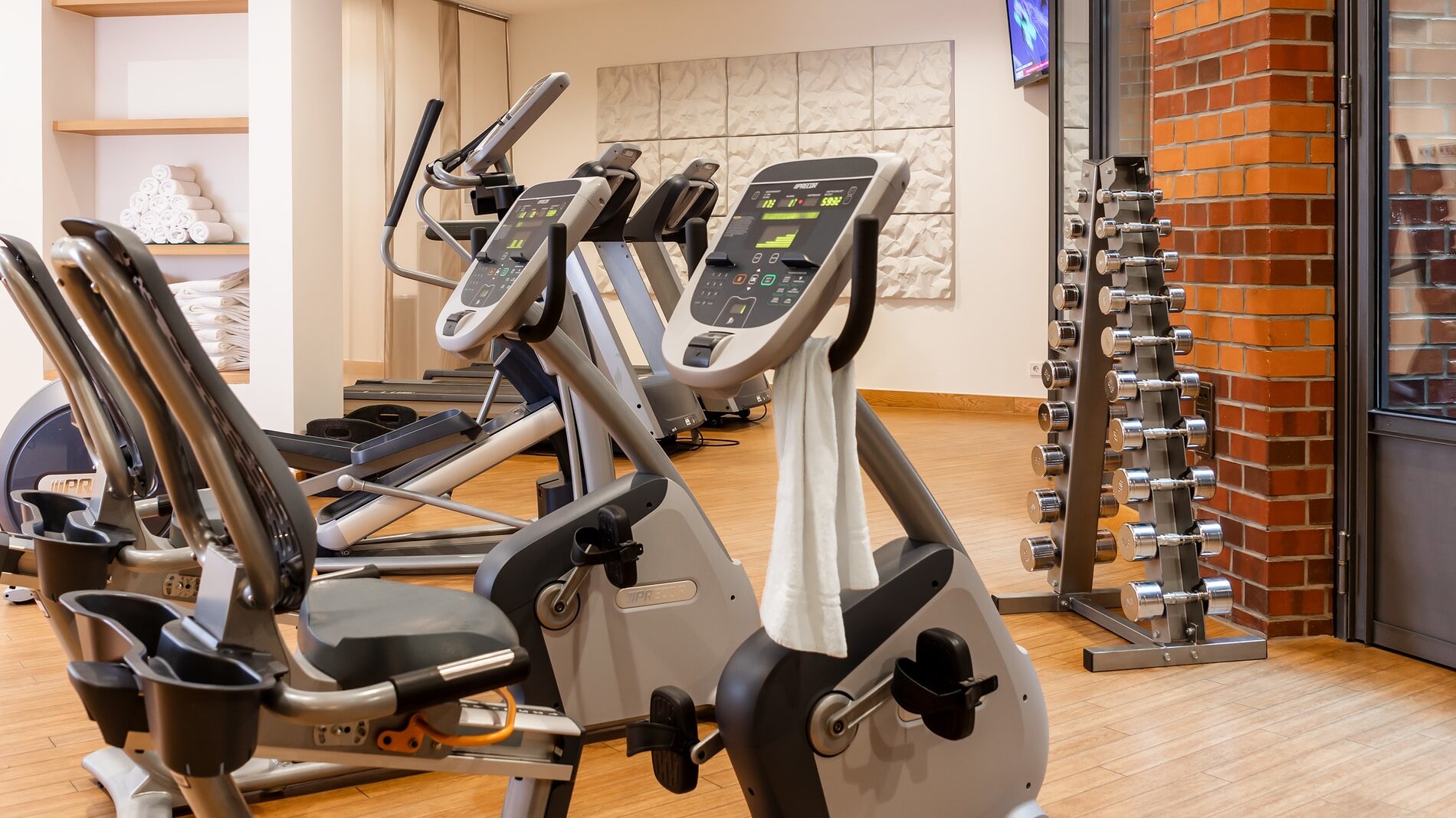 In our fitness area are modern fitness equipments available for your daily workout routine.
Arrangements & Offers
Discover Bremen's city center
Bremen is a beautiful city to discover. Our hotel in Bremen's city center is very close to numerous sights: the famous Bremen Town Musicians, the City Hall, the Roland statue and of course the popular Schnoor district. The medieval city center is a paradise for those who love romantic alleys, old buildings, art and the little things in life.
Our insider tip: Be sure to visit the Bremen candy factory. Here you will find handmade sweets and can even watch them being made - if you're lucky, you might even get to try one!
Impressions from the Dorint City-Hotel Bremen
Real people, real experience, real emotion.
Dorint makes dreams come true.
We have the right activity for every explorer and bon vivant: simply browse through our offers and decide on your favourite experience. With us you can discover holidays in a whole new way: Make a wish!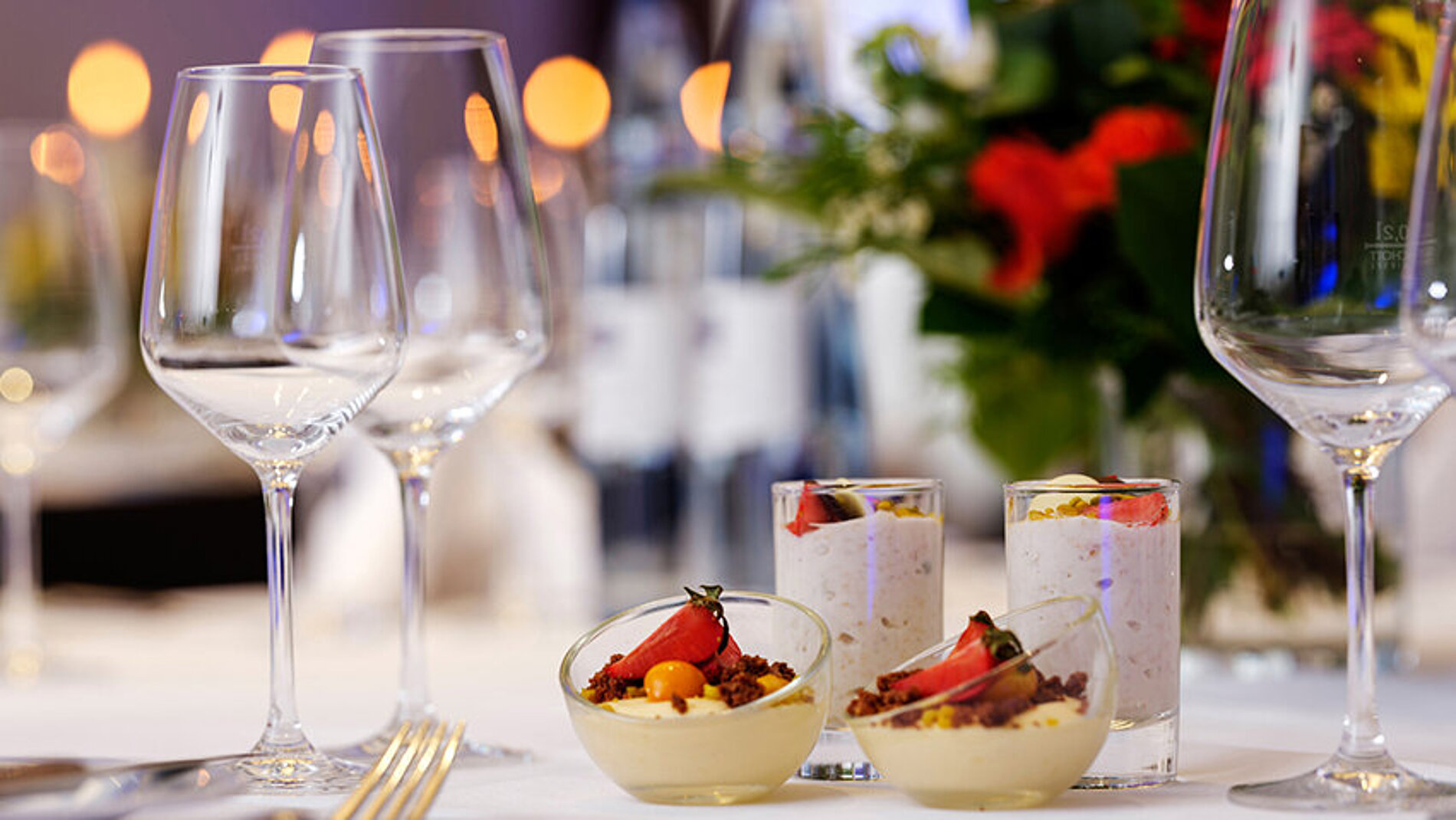 Celebrations for up to 1,000 people
Meetings and celebrations from 35 m² to 1,200 m²: Our event rooms offer space for up to 1,000 people!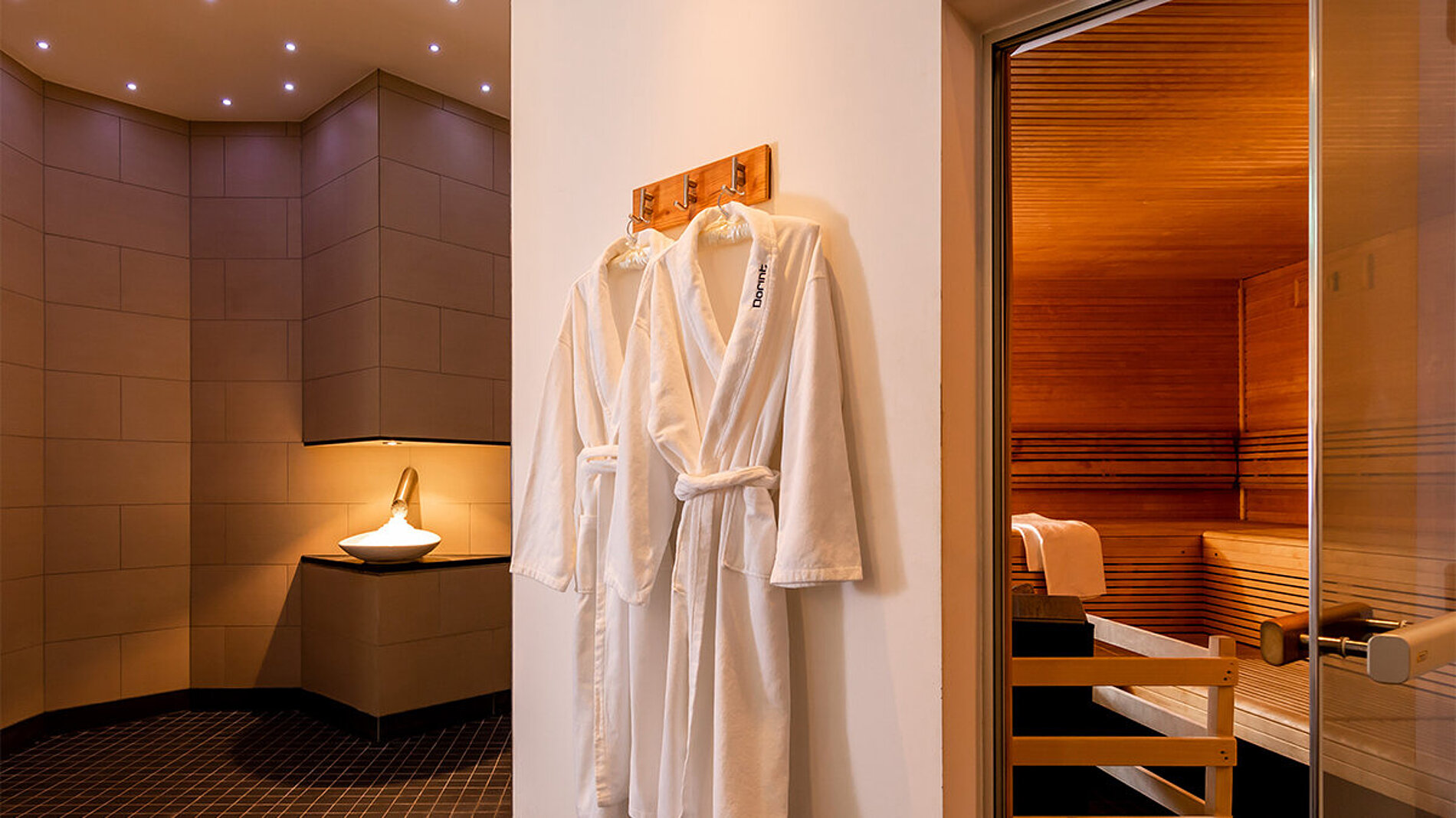 In our wellness area with steam sauna and massage room you can end the day in a relaxed way.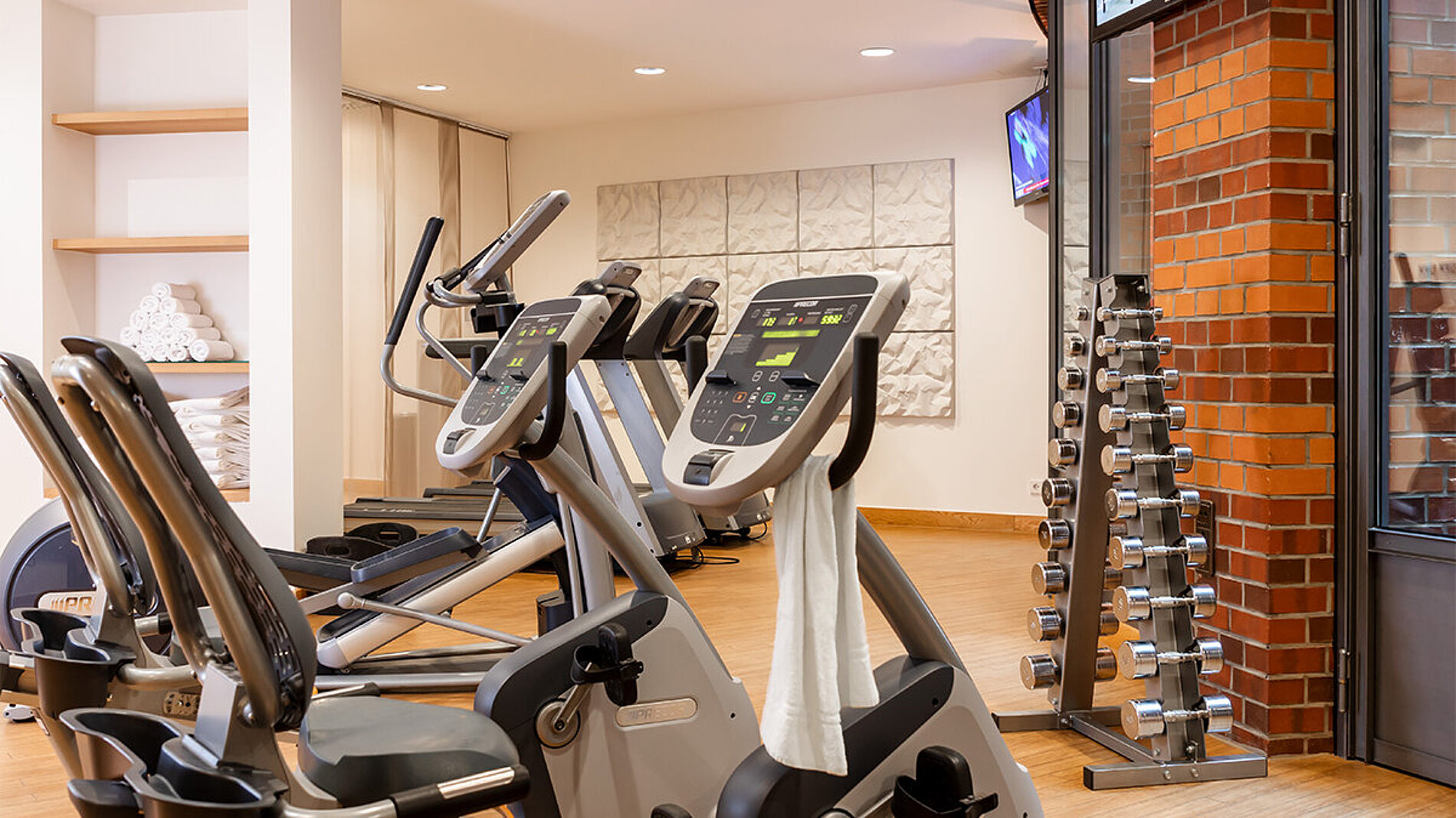 Start the day with a training session in our fitness area.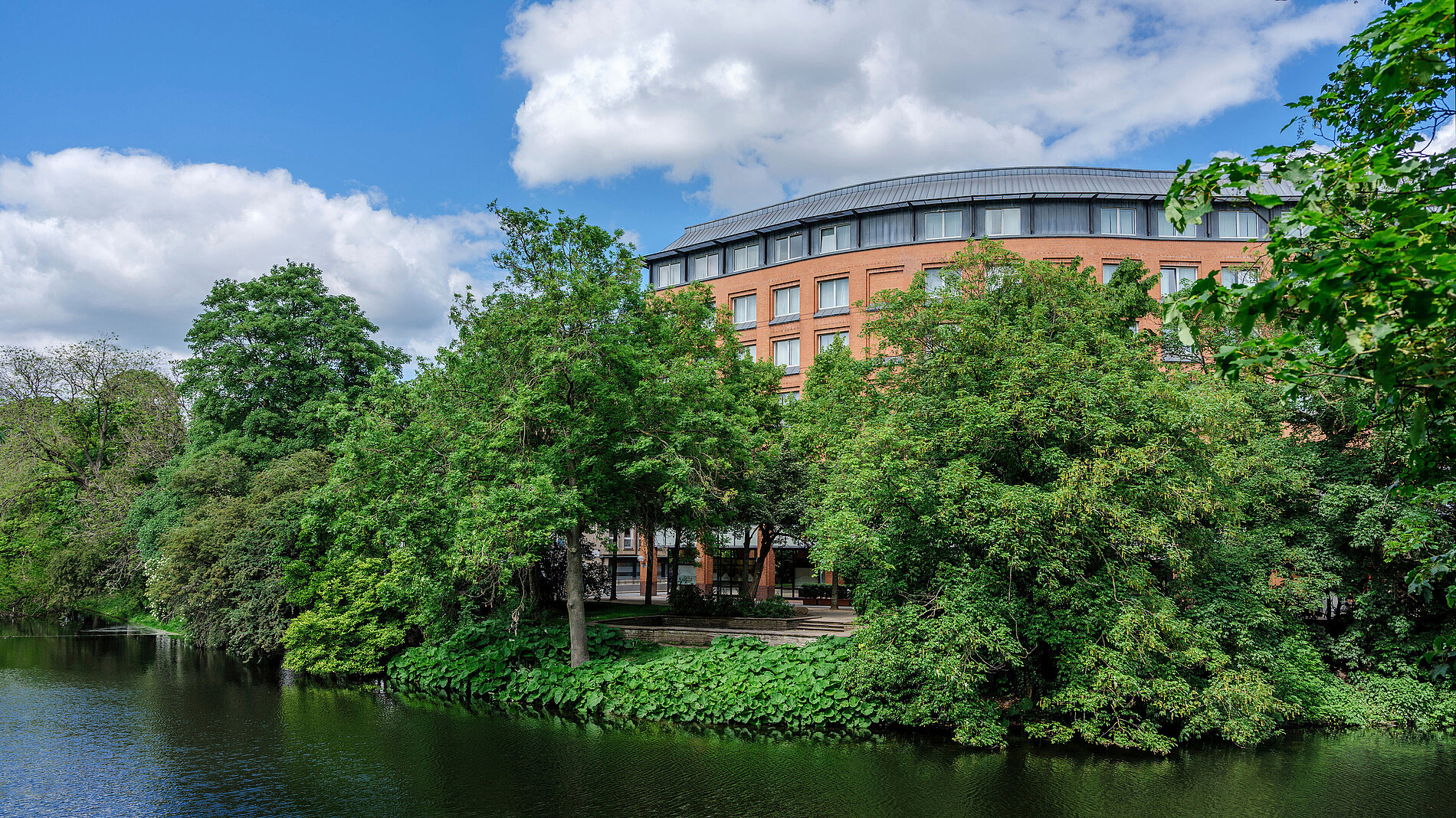 Located on Bremen's historic ramparts, you can easily reach all the city's highlights on foot or by tram, directly from the hotel.
Enjoy a drink in our Hillmann's Bar & Bistro.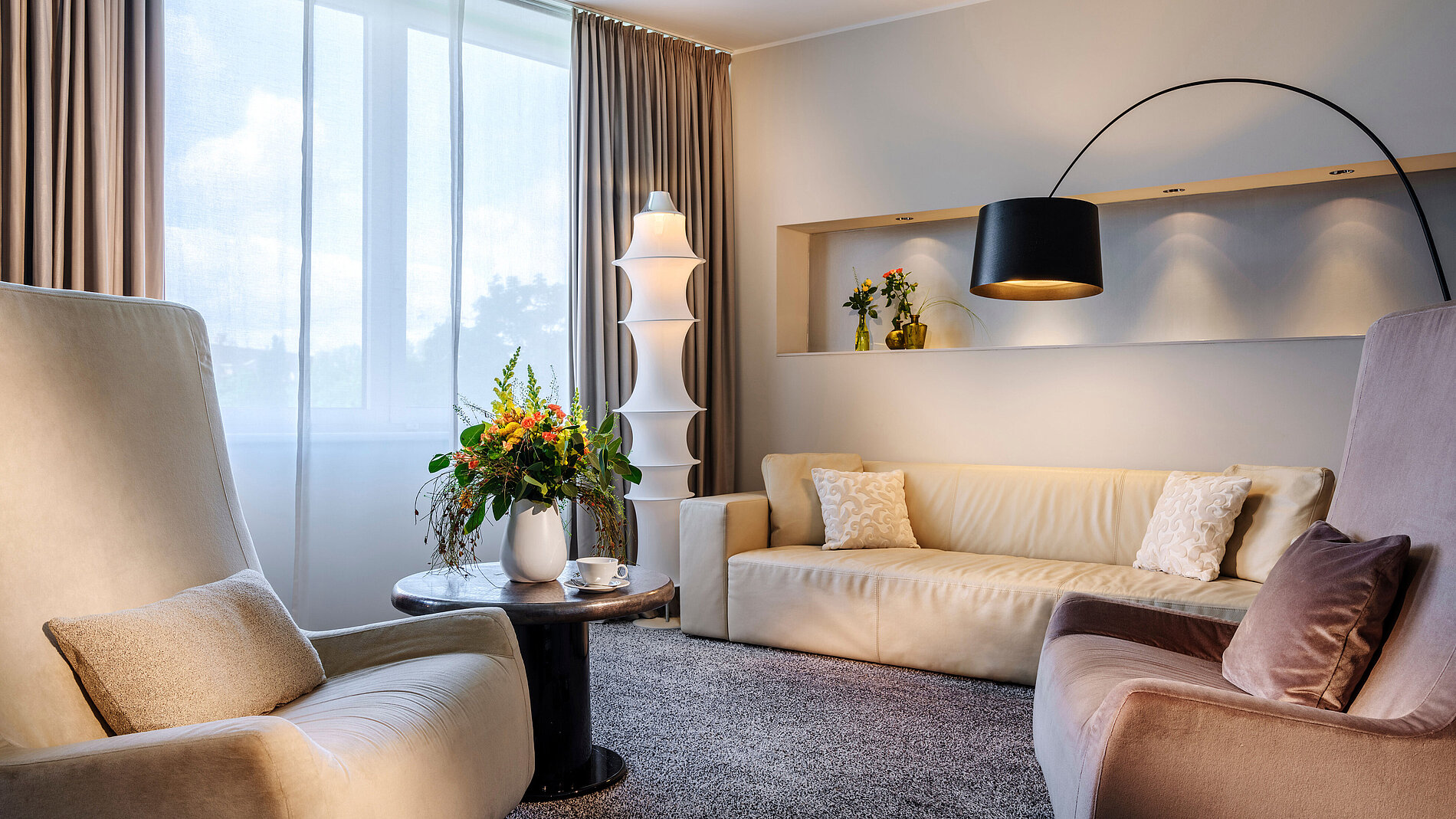 Enjoy the comfort of our suites or relax after an eventful day in our spacious standard rooms.